Bright Lights are proud to announce that we have been asked once more to provide all the audio, video and lighting for this year's Canadian Stampede in Oman on 11th March at The RAS AL HAMRA Recreation Centre.
The Stampede party is held every year in Muscat and, with this being its 23rd year, is the longest running celebration of the stampede outside of Calgary, Canada.
Bright Lights Events management team has been making plans to create different, exciting effects from last year, but nature is threatening to put a hold on some of the more ambitious ideas. Our special lights, speakers and video systems do not like the idea of working in the rain and Muscat has had more of its normal share already this year.
As usual the dress code is Country and Western – Casual/National Dress but the dancers may like to swap their cowboy boots for wellingtons.
Gates open at 7.30pm and if you arrive before 9.30pm you will receive a free bandana. Two lucky people will win a trip to The 2016 Calgary Stampede Shooter Salon.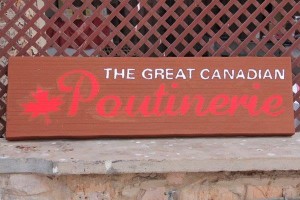 Poutinerie, the tasty Canadian dish
A Western Style Buffet will be served and, of course, Poutinerie. This tasty Canadian dish originates from Quebec and is made with French fries and cheese curds, topped with a light brown gravy.